What Is YAC?
It's a real life story written in the fiber and hearts of thousands of young people, whose lives have been touched by their experiences in Gospel Projects Youth Athletic Club, a Christian Ministry dedicated to reaching our youth for Christ and training Christian leaders for tomorrow.
A story of growth... From the spring of 1959, beginning with fifteen players, the baseball program alone has grown to more than nine hundred boys and girls.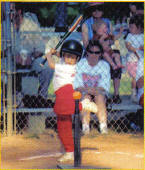 A story of quality... YAC provides wholesome recreational activities for all youngsters regardless of race, color, creed or national origin. Soccer, baseball, and summer day camp are offered year-round for boys and girls ages 3 1/2 to 14. Participation is our emphasis, and excellence is what we strive for, not winning at any cost. We refuse to let adults take the fun out of sports by excessive pressure upon the youth. Parents, coaches and officials are expected to conduct themselves in keeping with this goal.

A story of dedication...The success and growth of YAC is the result of the dedication of many businesses and individuals in the community, who have given of their time, energy, and means to the youth of this area. Many of our present coaches "grew up" playing ball in the program. The fruit of such dedication is to be found in the hundreds of successful men and women who have been helped and encouraged by Gospel Projects YAC.
A story of commitment... The day-to-day operation of the various programs of the Youth Athletic Club is paid for by registration and sponsorship fees. Money for new fields, fencing, bleachers, buildings, and major equipment must come from men, women and businesses of the community who have a genuine concern for our youth. YAC receives no government funds. It is a federally tax exempt, non-profit organization.
Dr. Dayton Hobbs ~ YAC Founder
Tod Brainard ~ YAC Program Director