IS THIS YOUR FIRST VISIT TO GRACE BIBLE CHURCH?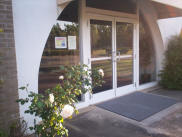 We welcome visitors to our church! Upon arriving, you'll find the church entrance easily accessible from the parking lot. Before the Sunday School classes begin, the Senior Pastor and a Visitor Greeter will be at the front doors.
At 9:45 a.m. we join together in opening exercises to sing praises to the Lord, prepare our hearts for the teaching of God's Word, then begin Sunday School classes at 10:00 a.m. We have a graded Sunday School program for ages two through High School; Adults meet together for serious study of the Scriptures.
Sunday Services at 11:00 a.m. and 6:00 p.m. provide old fashioned preaching of the Word of God. There is also a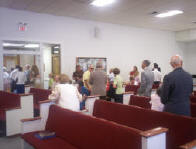 prayer gathering at 5:30 p.m. before the Evening Service for those who wish to attend.
Wednesday Evenings at 7:00 p.m. consist of a brief Bible Study and then separate Prayer Groups for the men and women to lift up prayer requests and praises.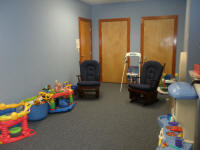 If you have babies or small children, someone will show you where our new Nursery is located so that you may receive the full benefit of the services.
Please feel free to contact us by e-mail or phone for more information. We'll gladly answer any questions. We look forward to seeing you!